A Tradition of Service Since 1896
Our business was established on April 22, 1896, by James J. Barrett.
James J. Barrett was married to Mary Hackett and together they had five children: Catherine, James P., John L., Edward N., and Mary E.
James, John, and Catherine all worked in the business. Edward began working in the business after his eldest brother, James, only 36, died of heart failure on August 19, 1924.
Catherine, Edward, and Mary, never married and resided in a nice house on the 1200 block of West 9th street. James P. married Florence Tonsor and they had one child, Mary Louise. John L. married Gertrude Winters and they had one child, John James.
The original business was located on 4th street between Belle and State streets. John, Edward, and Catherine had a new building built at 327 State Street and relocated the shop there in 1936. They continued the sheet metal business there and also installed coal and oil-fired gravity furnaces.
Mary Louise married Joseph Hoskins and had a daughter, Marjorie Ann.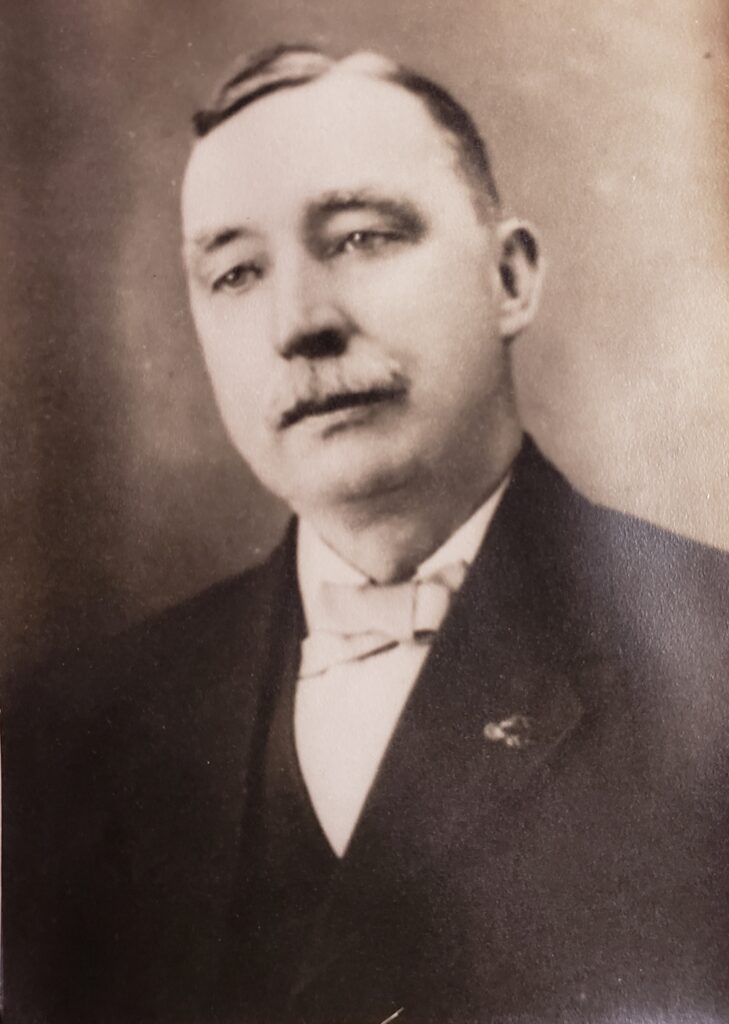 James Barrett, Founder of Barrett Heating & Cooling, Inc.
John James married Theresa McConnell and together they had eight children: Rebecca Sue, John James Jr. (Jay), Patrick Leo, Mary Catherine (Cathy), Theresa Ann, Michael Alan, Joseph Mark, and Christine Carol.
Now, John L. Barrett did not want his son in the business so John James went to work for John Jehle at Alton Plumbing which was just down the street from the Barrett Sheet Metal business. However, John James apparently really wanted to work in the business, because when his father died in 1954, John James purchased the business from Edward and Catherine and ran the business himself until he retired in 1986.
Over the years all of his children and many of his grandchildren worked at the shop. Now, four of his eight children own the business (Mike, Joe, Chris, and Jay). Five of his children (Mike, Joe, Chris, Jay, and Theresa) and four of his grandchildren (Steven, Timothy, Edward, and Kelly) work here full time.
In 1986 Mike, Joe, Chris, and Jay, restructured the business and divided it into departments, service, installation, office, and sales. Mike is the Service Manager, Joe the Installation Manager, Chris the Office Manager, and Jay the Sales Manager. In 1988 Mike, Joe, Chris, and Jay formed a partnership that made it possible for them to purchase the hardware store at 418-500 Belle Street. The building was used as a warehouse until the flood in 1993. They took advantage of the Federal Façade Grant program and fixed up the exterior of the building. In 1995 it was decided to fix up the interior of the north building, move the shop there and sell the building on State Street. The move was made on June 1st, 1995. The business was managed while work on the interior continued.
Over the years, the business has expanded and strives to keep up with new technologies as they become available. At this time we install Lennox furnaces, air conditioners, and heat pumps, Geo Comfort Geo-Thermal heat pumps, Generac generators, Aprilaire humidifiers, Space Gard air cleaners, A.O. Smith water heaters, and provide duct cleaning, ventilating, air balancing, Arzel Zoning systems, WiFi Thermostats, and whole-house diagnostics.
On July 11, 1995, John J. Barrett Sr. passed away in his sleep. His advice and wisdom were sought regularly and he is missed. It is our hope to continue to run the business with the same integrity that it was started over 100 years ago.
Thank you for visiting our website and taking the time to learn a little bit more about our history and our family.